How can you provide extra protection for employees and visitors to make your indoor environment Covid-secure?
Blog by Christian Pearce, Commercial Director at Conditioned Environment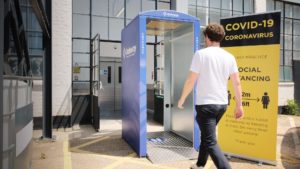 The COVID-19 outbreak has seen businesses find many creative ways to pivot, as well as opening opportunities for new product innovation. It's been great to see how people have embraced technology to find solutions for today's problems. Early in the pandemic, I started to research how we could put our expertise in mechanical design and engineering to good use. We have over 50 years' experience in air conditioning, ventilation and public health, so I wondered if we could lend our expertise to developing a solution that provided an extra layer of protection against coronavirus. Three months later, and after a lot of hard work, we've launched the Gateway – Personal Protection Tunnel, which provides a simple but super-effective added layer of protection to prevent the spread of the coronavirus. Since our launch last week, we've had many interesting conversations, so I wanted to answer some of the most pressing questions I've had. Here I explain what it does, how it works and how it could benefit your business.
What is a Personal Protection Tunnel?
 A study in The Lancet found that the SARS-CoV-2 can survive on cloth for up to two days and it's well documented that the virus can quickly transfer from hands to face, leading to infection. A Personal Protection Tunnel aims to combat this. Also known as a disinfectant tunnel or sanitisation tunnel, it sprays a harmless anti-viral, dry mist over you from head to toe for three to five seconds to deactivate the virus on clothes and skin.
How does a dry-mist tunnel work?
It works by disabling any virus particles that are present on clothes or exposed skin on contact and, in doing so, reduces the spread. The dry mist tunnel sprays an organic sanitiser that's effective in killing 99.99% of viruses and bacteria, including COVID-19. The solution is water-based and used by hospitals for disinfecting and sanitising and is completely safe.
Using a simple traffic light system, you step into the disinfection tunnel and it sprays the non-hazardous dry mist. When the process is complete, you're safe to enter the building, obviously while following other social distancing and hygiene practices. You can see how simple it is in our quick video.
What locations need extra protection to ensure they are Covid-secure?
Any locations with high footfall, particularly in the built environment that have a high level of contact hotspots or where there are vulnerable people, need extra protection against COVID-19. So, our sanitisation tunnel has broad application in multiple environments. Care homes, building sites, retail outlets, schools, colleges, universities, hospitals and other health care facilities, offices, gyms, hotels, restaurants, pubs, museums, leisure attractions, cinemas and airports are all places that could benefit from extra protection against coronavirus. The tunnel can be used at the entry point of these environments, alongside social distancing practices and PPE to give an improved consistency in sanitation for everyone entering or exiting the space.
What's the science behind the Personal Protection Tunnel?
As we all know, the unpredictability of the Covid-19 outbreak has made this virus exceptionally challenging. Without a vaccination or any medical treatment, we must be thorough by implementing a combination of control strategies that, when applied together, can minimise exposure to or transmission of the virus.
The misting sanitiser we use contains Activox-CV1, a unique biocidal product researched and formulated by a leading chemical manufacturer in the UK. The sanitiser delivers a measured level of ClO2 to the aqueous solution and belongs to a group of oxidising biocides which means that pathogens can't build up resistance to it. The formulation is supported by scientific data showing viricidal efficacy at the measured Gateway – Personal Protection Tunnel dosage rates. It's been carefully developed to ensure that exposure concentrations are well within safe EH40 limits for humans; this basically means that long term exposure is safe. In fact, the main active ingredient in the product is also approved by the UK Drinking Water Inspectorate for levels of 0.5 ppm as total oxidant.
Minimising the risk of infection from COVID-19
By minimising the risk of virus contamination being carried in or out of high-volume destinations, we can reduce the risk of infection from COVID-19. Alongside other control measures, my hope is that our new Personal Protection Tunnel will help to build people's confidence in going about their daily lives – whether at work or leisure. We've all been affected by the pandemic and our team has worked hard to develop a Covid-secure solution that gives people more protection against coronavirus in places where it's most needed. I'm really proud of the fact that we've designed and manufactured the Gateway – Personal Protection Tunnel in the UK, using our expertise in creating and controlling safe environments. Welcome to PPE 2.0!
The Gateway – Personal Protection Tunnel is available to buy or lease and can be branded for any business. If you'd like to find out more please get in touch with me at or visit https://www.gatewayppt.com/