Buckinghamshire care home invests in British made Gateway Personal Protection Tunnels to reduce the risk of COVID-19 transmission to care home residents.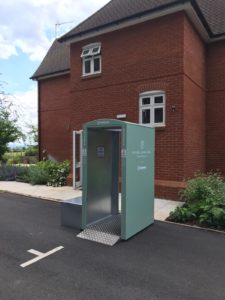 Installation of tunnel comes on day non-essential shops open and UK begins to ease lockdown
System is expected to be used in travel, leisure, retail and other industries to fight COVID-19 and restore consumer confidence
Conditioned Environment, a leading London based mechanical services company, has launched a partnership with Peverel Court Care, which will introduce the new Gateway Personal Protection Tunnel to help reduce the risk of transmission of COVID-19 to care home residents from staff and visitors.
The Gateway Personal Protection Tunnel will be installed at the Group's Bartlett's Residential Care Home in Aylesbury on Monday (15 June).
The Gateway Personal Protection Tunnel, which is designed and manufactured in the UK, is a walkthrough tunnel that can be used at a wide range of locations from offices, sporting venues, pubs and restaurants, shopping centres, hospitals and care homes to schools.
It is expected to be used in by businesses in the travel, leisure, retail, care, hospitality and other  industries to fight COVID-19 and restore consumer confidence as the UK begins to slowly lift lockdown restrictions.
The Gateway Tunnel uses an EPA and FDA approved water based, dry-mist sanitiser which is sprayed on a person in only five seconds as they walk through the tunnel. At the dosage level it is environmentally friendly and is compliant with long time exposure limits. For the majority of users, the product should not cause any irritation to a person's skin or eyes.
The sanitiser is effective in killing 99.99% of the coronavirus. It works by disabling any virus particles that are present on clothes or exposed skin upon contact, thereby reducing their ability to spread.
The Gateway Tunnel can be quickly scaled to fit care homes providing them with the benefit of the protection of the sanitiser, which lasts for several hours to staff and visitors to the residents.
Christian Pearce, Commercial Director at Conditioned Environment said:
"Since COVID-19 hit the country we have worked hard to develop a product here in the UK that will help get us back to work safely and reduce the likelihood of a second peak and help protect vulnerable groups such as people in care homes.
The Gateway Personal Protection Tunnel will help ensure safer working environments, including those at care homes and hospitals. We are delighted to be supporting Peveral Court Care and helping to ensure that residents can once again see friends and family in a safe way."
Anil Dhanani, Peverel Court Care said:
"At times like this when people want more than ever to spend precious time with family, yet for the protection of all of our residents we were forced to make the difficult decision to cease visits to our care homes. As an integral part of our infection control processes, the Gateway Personal Protection Tunnel will help us ensure we minimize the risk of viruses entering the homes keeping our residents safe and allowing visitors to return in a safe and controlled manner.
The same is true for our fantastic care staff entering and leaving the building daily. Coupled with the wider public benefit of helping to reduce any viral spread into the wider community, it's a great initiative and one we hope to see rolled out across the company."
---
ENDS
---
For further information please contact:
Christian Pearce, Commercial Director
Mobile: +44 (0) 7973 797570
Email:
Pictures of the Gateway Protection Tunnel and videos of it in operation are available on request.